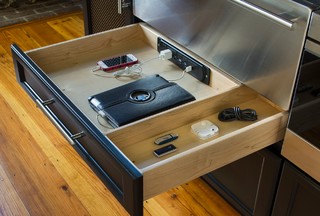 With the new year very much underway, we are already looking forward to all the kitchen design trends that 2016 will bring.
1. Smart spaces. With technology continuing to reach new heights each year, it's no surprise that more homes are having tech-friendly features incorporated in more rooms than just where the entertainment center lives. The kitchen begs no exception! With the amount of time spent in the kitchen, homeowners can expect 2016 to bring designs that allow for hidden charging stations, phone or tablet storage, and even smart appliances that can be controlled via on the go devices.
2. Neutrals and more muted color palettes. White motifs will continue to reign strongly, but make room for charcoal, grays, and neutral pastels to be added to the mix. The once popular sharp contrast kitchens with bolder, primary colors will become less popular while muted blues, greens, and even yellows show their faces. Kitchens in 2016 will look to add a warmth that kitchens of recent years haven't been able to offer.
3. Texture! With the modern minimalist reigning supreme for the past several years, it is expected that designs will continued to be drawn to a more warm and comfortable feel. An introduction of textured cabinet fronts or backsplashes will bring a homey feeling regardless of color scheme or other outstanding styles. This depth will also be able to be accomplished through the repurposing of the same texture in different ways. The same stone or wood can be finished in multiple fashions to be used in the same space.
4. Less fuss, less muss.
 While not an end to more traditional styles, we can expect to see a continuation and expansion of cleaner and bolder lines with less intricate detailing in new designs. This trend can almost be interpreted as the new traditional; kitchens with mostly modern appeal will soon be found more often than not. Prominent key elements could include range hoods, islands, and cabinet crowns, to name a few. Functionality will outweigh a need for frivolous minutia.
5. Incorporation of vintage style. Designs that blend contemporary styles with touches of vintage character will be a strong contender for 2016. For those who aren't fans of the recent ultra-sleek designs with bold contrast and sharp edges, this upcoming trend offers the blending of lines between classic and modern. This will happen in choices of lighter wood grains, white color palettes, and removing unnecessary clutter. Watch for retro decor or gadgets to compliment neutral color schemes or simplistic architecture.
6. Metals make an even stronger comeback. This trend started on its way back to the design market within the last couple of years. Silver and stainless steel will soon take a backseat to warmer hues of brass, gold, and copper. The chicness of metallic finishes can add sophistication to the room and the new warmer metals can help bring a hominess that was harder to find in silver and stainless steel. One of the most notable ways to incorporate this trend into the kitchen is through metal range hoods. As such a large fixture, the metal finish can add contrast to the space that can be complemented through pendant lights, tapware, handles, or even backsplashes.
7. Cozy is back! Recent years have seen comfort traded in for sleeker style, but this won't be the case in 2016. Kitchen seating will boast organic shapes and textiles, such as linens or cottons. These new additions will not disregard modern style's progress, but merely adopt a more welcoming aesthetic than its predecessors. One can also expect to see an increase in plush pillows or cushions as well; the hominess factor is ever present in the new contemporary kitchen.
8. Shape up spaces with geometric motifs. Despite steering away from sharp lines in other regards, kitchens can expect to see an increase in geometric patterns being introduced into the space. Backsplashes could be the ideal place for this as tiles in hexagonal shapes or patterns prove engaging. Floors could also offer a sizable palette for artistic expression of shapes.
9. Almost the real thing. Everyone wants a luxury kitchen, but it isn't always available to those with a lower budget. Don't lose heart, however, because 2016 will see an increase in manufactured materials that could easily impersonate real marble, granite, or wood alike, to name a few. After many years of apparent fakeness, engineering turns a new corner with stone, board, and tiles that look nearly as good as their natural counterpart. Some of the most appealing aspects of choosing a fake material over a natural one is the longevity, cost effectiveness, and ease of maintenance. In areas prone to high wear and tear, it is advisable to install manmade components for practicality's sake. Fake woods or stone can help add needed texture to a space without breaking the bank while keeping aesthetics that of a luxury kitchen.  
10. The real thing is good too. In a society with technology bursting at the seams, it's no surprise that there is an ever increasing need to slow down and get back to our naturistic roots. While they will certainly be on the pricier end of the spectrum, natural materials like bamboo and river rock look phenomenal while adding visually and texturally engaging interest to the kitchen. On the same note, timber is a theme that will become prominent in the new year. To go alongside the trends in blonde oaks and walnut tones, an organic kitchen space can expect to feature tree stump stools, branch pendant lights, and more.
11. Kitchen-living. People spend an enormous amount of time in their kitchens, whether it be cooking, playing a board game, doing work, or whatever need may arise. With an increase in people looking to better encourage family time, designers can expect to see stronger desires for open spaces. The lines between making kitchen and living rooms separate are becoming more blurred. This can easily be accomplished without having to sacrifice appearance through hidden or integrated appliances as well as the opening of walls.
Dwell360 is a residential real estate firm based in Newton, Massachusetts, servicing the cities and suburbs of metro Boston. We are focused on our customers and our experience in the residential real estate market is extensive. Search for homes in Massachusetts and then give us a call.
Saroca, Natasha. (September 27, 2015). 12 Hot Kitchen Trends Set to Sizzle in 2016. Retrieved from http://goo.gl/Zml8WZ.
Ferris, Sam. (January 5, 2016). 9 Kitchen Trends to Watch For in 2016. Retrieved from http://goo.gl/7y4pDK.